F56 2015 HARDTOP S WITH JCW APPEARANCE PACKAGES
JCW TUNING KIT:
The John Cooper Works Tuning Kit offers two possible operating modes - "Sport mode" and "Track mode" - that both acoustically accentuate the car's sporty character. "Sport mode" is approved for unrestricted use on public roads. "Track mode" is designed for use on race tracks. The JCW valve silencer system, coupled with performance-optimized engine data, offers maximum emotionality, volume and sound for a more intensive driving experience.
THE PERFORMANCE NUMBERS ARE:
F56 Standard Cooper S: 189 hp and 206 ft/lbs
F56 Cooper S with John Cooper Works Tuning Kit: 210hp and 221 ft/lbs
F56 Factory John Cooper Works MINI: 228hp and 236 ft/lbs
CLICK AND DRIVE WITH ADAPTER
The MINI Click and Drive System is a simple yet innovative cradle which can be used with a variety of smartphones. Simply, click your device into place and drive. The brilliant design allows the motorer to get the vital information they need while keeping their eyes on what really matters -- The Road. When the system is not in use, it can be retracted to be made practically invisible.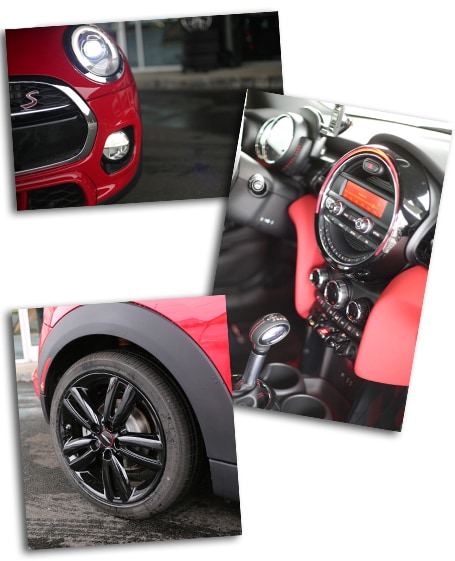 To learn more about the 2015 MINI Cooper S Hardtop with JCW Appearance Packages, contact us.